A Masterclass for Healers DVD Set
Gabor Maté, MD
6 Lectures (360 Minutes Total)
Released 2020
A Masterclass for Healers includes a comprehensive introduction and overview of Gabor's unified philosophy on the origin of disease and mental illness, with detailed lessons that offer a diversity of tools, techniques, and psycho-education focused on helping healing professionals to cultivate deeper attunement, connection and healing with their clients. Gabor is passionate about changing the narrative around the international crisis of addiction. In each lesson, Dr. Maté thoughtfully presents his work through the lens of treating addiction, and expands on the special issues when treating substance abuse. This masterclass is a "must have" for any professional interested in learning more about Gabor's work and approach.


The Masterclass for Healers includes six video lessons presented by Dr. Gabor Maté: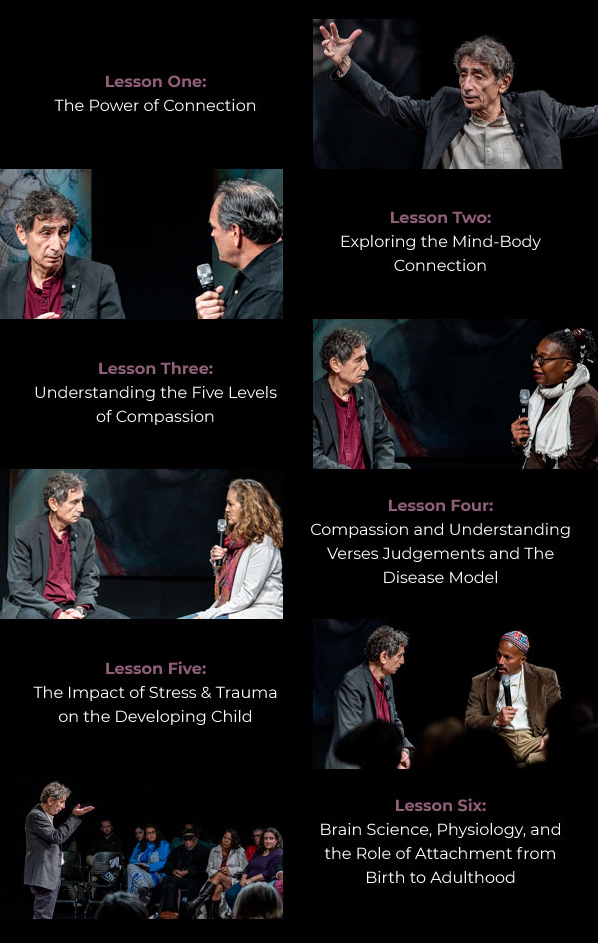 Each lecture takes you on a 'deep dive' journey to collectively examine our roles as professionals in the healing paradigm. Gabor integrates and explains how aspects of attachment, early childhood trauma, and the role of societal stress impacts human development and affects illness and disease. You'll learn techniques rooted in compassion and understanding to help us recognize and understand how our own wounds, hidden self-judgments, and perceptions can interfere with our capacity for authentic attunement with our clients. The Masterclass is packed with clinical pearls, techniques, audience interaction, personal stories, and practical skills you can use with your clients.
- The course was developed and filmed exclusively from a collaboration between Dr. Gabor Maté and Wholehearted.org. Includes over 6 hours of video, professionally filmed in a production studio in 4K, and painstakingly edited for content and clarity.