Connections Curriculum - Shame Resilience Program
Brene Brown, Ph.D., LMSW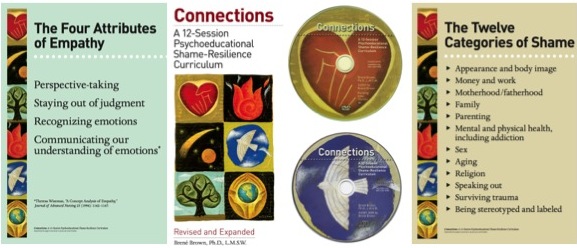 Brené Brown's Connections Curriculum is designed as a 12 part program for use in facilitating groups. Connections is a multifaceted approach, developed to address issues relating to shame, and to facilitate the development of shame resilience. The curriculum is ideal for populations working with issues such as self esteem, love and belonging, authenticity, the development of empathy, connection, and power, and the ability to cultivate a resilient spirit.
While the activities, readings, presentations, and materials within Connections will have significant benefit to almost any population, it is particularly suited to working with populations in treatment for substance abuse, abuse and trauma survivors, incarcerated populations, and individuals facing challenging life transitions requiring additional help in developing competence in facilitating interpersonal connection, personal empowerment, development of empathy, and enhancing of self esteem and self confidence.
Although designed to use as a 12 part series, Dr. Brown invites program facilitators to "make the curriculum their own. One of the strengths of Connections is that the materials and tools contained within the curriculum are designed to be flexible. The program can be presented as-is, as a twelve-part standalone curriculum, or the individual units can be reconfigured into other delivery formats, including weekend retreat intensives and condensed programs when required for budgetary considerations. Connections can also easily be expanded into more than 12 sessions, with more time spent on specific issues or target areas when required for a particular population.
For facilitators who commonly make use of gratitude or compassion meditations, psychodrama exercises, art therapy exercises, or other modalities, it is easy to incorporate those elements into the Connections curriculum, and many facilitators have found such additions very beneficial to their groups.
The curriculum itself includes short DVD presentations for each of the sessions, along with worksheets and self-assessment instruments designed to assist participants in understanding and incorporating the concepts and materials presented. Detailed notes are provided for the facilitator for each unit of the curriculum, with suggested timelines for each activity, keys to the appropriate video presentations, worksheet or self-assessment instrument handouts, and discussion guides.
The curriculum works best when presented sequentially, as many of the earlier activities build skills and knowledge that serve as a foundation for later work, but many facilitators have also had success drawing on the elements of Connections as part of a larger curriculum or long-term group program.

Connections Curriculum for Populations in Recovery from Chemical Dependency
Connections is an accessible means of addressing many of the underlying issues facing the chemically dependent client in recovery. By addressing the underlying issues of shame and self-worth, and educating the client on understanding the false beliefs and incorrect associations and thought processes that underlie self-defeating behaviors and poor choices. In this setting, Connections can be used as-is, in a 3 times per week delivery format for a typical 28 day treatment program, or it can be adapted to integrate into an existing curriculum.

Scientific / Academic Foundation
Connections draws extensively on Shame Resilience Theory, a comprehensive theory integrating numerous facets of human development and interaction, and their intersections with shame, authenticity, vulnerability, and their impacts on human interaction, connection, and wholehearted living. Shame Resilience Theory was developed by Dr. Brown, based on over 12 years of scientific study and detailed academic research with over 7000 participants. Dr. Brown has published numerous articles on shame, shame resilience, and other research topics.
** Clinical Products CAN NOT Be Returned ** These Items Include: Brene Brown Connections, Mark Lundholm's Humor In Treatment, Mark Lundholm's Family In Treatment. These items are considered final sale, and CAN'T be returned. However, if your product is defective we will exchange it for a replacement.