This brand-new tool is a 12x14 book, organized as a flip-chart, with 20 pages, each printed on heavy cover paper, and spiral bound. The flip chart features enlarged versions of the illustrations from the Recovery Humor 101 workbook, along with short, bulleted key points taken from the 10 key learning objectives from the workbook. For client populations that may have difficulty with the detailed written material in the workbook, the flip chart reduces the ideas to simple, easy to- understand concepts. It is ideal for use in groups, but equally effective for individual sessions. The pages can also be torn out of the flip book and made into posters.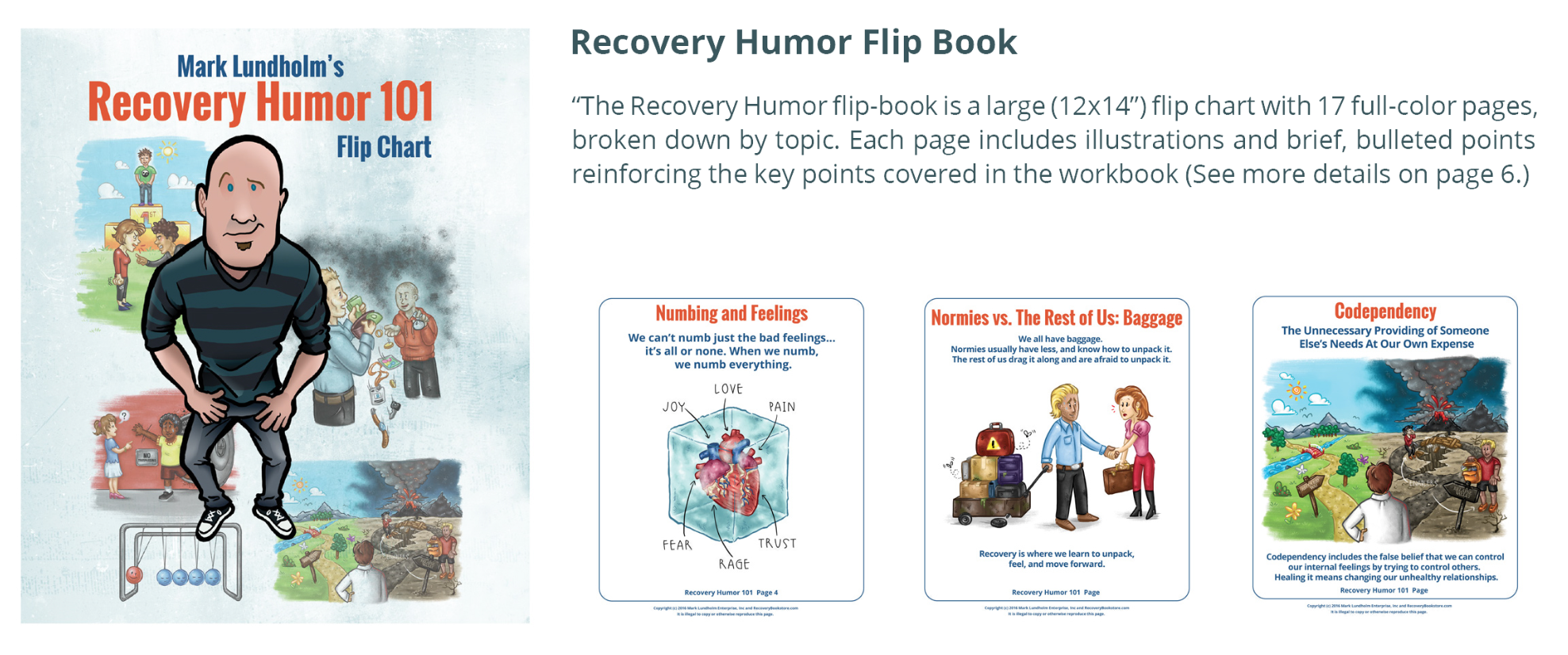 Recovery Humor 101 Clinical Resource Guide
The Clinical Resource Guide is a full color 28 page guide intended for use by group facilitators, counselors, and clinicians. It contains detailed instructions, explanations, and methods for using the DVD, Workbook, and Flip Book in clincial settings with patients. Recovery Humor 101 is based on the most current research and thought in psychology and addiction studies.
The Resource Guide includes information on using the workbook and DVD together, using the DVD standalone, the workbook standalone, and several other approaches of using the material in various settings from twice per week groups, to intensives, to individual counseling.
We've included a detailed description of each of the clinical elements covered in the DVD along with the timecode for each.
Each of the 8 units have individual group facilitation notes, clinical tips, and guidance, with suggested format, estimated times for each segment of the group session, and detailed information on exercises in each unit. Discussion starters and suggestions are included to get the most out of each exercise.
Since some of the exercise can bring up potentially challenging emotions for some clients, we've included advisory notes where particular sensitivity or additional support may be required.
*Workbook On CD With Reproduction Rights*
Home Use ($99) Package DOES NOT come with reproductions rights. You cannot copy the workbook. However, you can purchase the Clinical Package ($299.00) which will include a CD that contains printable files for the entire workbook, and each individual unit / chapter. If you or your organization would like the option to print or make copies of the workbook, please select the Clinical Package.
If you have previously purchased a clinical version of Recovery Humor 101 you may purchase the workbook on CD seperately for $99. Please contact us to directly to purchase the CD seperately. This offer only applies to purchases made directly through Recovery Bookstore for the previous version of the Clinical Package.
Discounts are available for Non-Profits.
Grants are available for those with limited resources.
Additional discounts available to CAADE members. (Contact us or CAADE for details).